The MATES Fun Run is here!
The kick off assembly was October 29th and the actual run will be taking place on Thursday, November 8th.
Run Times:
K-2 grade – 8:30 am
3-5 grade – 10:30 am
---
We need your help!
Please sign up to help during the MATES Fun Run by passing out water to the kids, or marking the laps that they run. Click here or on the image below: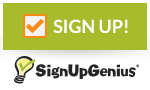 ---
This year's character theme is Apex STRONG! Students will join the Apex Team on an exciting journey as they learn what it truly means to strong as a team.
Selfless
Trustworthy
Refuel
Overcome
Next Level
Grateful
Students are raising pledges for the laps they will run on Fun Run day (between 26 and 36, 26-lap minimum, 36-lap maximum).  Each lap is 1/16th of a mile.  For example, a $1 per lap pledge means $30 dollars total pledged if the student runs 30 laps.
The majority the funds raised this year will go to our school to pay for technology, class supplies, and programs.
 The school has promised that 10% of whatever is raised in each class will go directly to that teacher to use in their own classroom.
This year our donation collections will be done online through Apex's website www.myapexevent.com to make the collection process easier and faster. Sponsors preferring to pay by cash/check may do so but as a Flat donation only. We ask that these cash/check donations be turned into the school any time before the Fun Run, so that students receive credit. 
Your child's access code to login at www.myapexevent, is on his/her lanyard.
---
Last Years Results:
We are excited to report our 2017 Fun Run Results!  We had a great day and beautiful weather!  Thank you to all the families who helped with the run that day and your time and effort  handing out water, spraying hot runners and marking laps!

Our MCN Co-Fundraising Chair, Divo Denove, helped manage this event with Apex and thank you to her team – Elena Boland, Catherine Hoefflin, Roland Madrid, Kim Stafford and Adam Gauthier, MCN financial secretary, for your volunteer time with this event.
---