I  a m .    Y o u   a r e .    W E  A R E  M C N.
Volunteering is a great way to meet new people and work together for a common goal like a great event for our kids or a committee to bring unique educational opportunities to the students.
We will be updating our current HELP WANTED opportunities on this page.
There are often areas where we need volunteers immediately or additional volunteers to help round out a committee or event coming up soon.
We hope you will look over what is needed and find a way to help.
Most are short term and once you do this you're done, we don't hound you for more just because you offered to help once.
Event descriptions GO


---
Current Opportunities:
Book Fair (May 21 -24)

Work in the book fair to set up, customer check out, security, help students and restocking.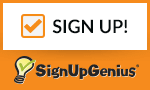 Ongoing throughout the year:
Healthy Kids Committee 

Work with a group of parent/grandparent volunteers to come up with inspirational ways to incorporate healthy eating, active lifestyles and healthy life habits into the students everyday lives.
Requires work from home and also meetings on campus.

Kindness Counts Committee

Ongoing committee that will come up with exciting and new ways to incorporate kindness in the children's everyday lives at MATES.
Lunchtime learning, Random Acts of Kindness, work with student leadership are some ways to reach the students.
New committee – Make it your own vision.  The sky is the limit!!

Copy Helper

Print and copy Wednesday folder flyers on Tuesday.

On campus, any week you are available, any time of the day.

You can sign up to be called with a specific need or set a date yourself. Very flexible.  But very much needed!

If you are already making copies for a teacher on Tuesdays, consider adding a flyer or 2 to your time in the copy room.

Clean Up Crew

All events we have on campus require we clean the facility before we leave that evening.
We wanted to bring your attention to this option as it is only for about 30 min. post event.
It is somewhat labor intensive as we haul the trash from the cans to the dumpster, and sweep floors and move tables back inside.
If you would like to add your name (or spouses) to this list we can email you prior to an event where this is needed and you can accept or decline if you will not be attending.
With more hands on deck the easier it is and quicker we all get to go home.
Thank you and your help is appreciated and valued!  Your kids thank you too!